Cathering Wittenberg
Catering for Lutherstadt Wittenberg
Culinary treats for weddings, galas, meetings and family celebrations
Enjoy great moments!
Great events are our passion! Let our catering service spoil you. With great attention to detail, chef de cuisine Christian Hirsch will create artful delicacies tailored to your individual requests and wishes: Dishes vary from hearty, rustic to light and are exquisitely made of high-quality, fresh and local products. Whether menu, finger food or buffet - our catering service gives your event an extraordinary culinary touch.
From planning to performing!
As a full service caterer we organize your event in minute detail to ensure it to be a complete success. You give the cause - we create an appropriate setting full of atmosphere! For example, by means of an inventive table decoration, atmospheric light concepts or matching musical arrangements. Whether in the comfort of your home, at a selected event location or at your company's premises: we deliver dishes, beverages and all necessary equipment to refine your event in gastronomical terms.
Whatever you desire – menu, flying service or buffet
You can choose how your meals are to be presented. Our catering usually provides three different serving alternatives: Flying service, menu or buffet. Flying service offers the opportunity to treat the guests to finger food or small light meals while standing, which makes this alternative especially suitable for receptions. Buffets at events are popular with many guests due to their diversity and high entertainment value. Thus, without any difficulty, a lot of different tastes can be considered so that all guests can eat their fill with joy.
The menu is the accomplished form of exclusive catering service. It is suitable for both private and business celebrations and gala events. Artful menu compositions are served in several courses and create a classy atmosphere. By request, our menus can be based on local or seasonal ingredients or adjusted to individual taste preferences. However, menus usually do not satisfy as many different tastes compared to buffets.
Your Contact for Conferences and other Events at the Luther-Hotel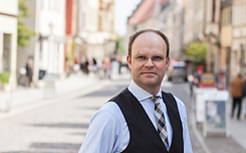 Your Contact for Service and Catering at the Luther-Hotel