Luther's Wedding in Lutherstadt Wittenberg

Festivity in Wittenberg
Luther's Wedding in Wittenberg
Almost half a millennium ago, former monk Martin Luther and monastery-escaped nun Katharina von Bora exchanged vows. For the past twenty years, this historic moment is being re-enacted along with a huge festivity in order for visitors to relate to the situation and to plunge into the events of that time.
As of June12th until the 15th in 2015, numerous
merchants, travelling artists and musicians were bustling through the alleys of the Historic Town of Wittenberg in order to honor the great Reformer and his spouse. Highlights of the wedding festivity were the historical parade on June 8 as well as the celebratory banquet on the castle's meadow afterwards.
Relive History over Meat and Drink
Luther's Wedding is an adventure for the young and the old. Historic markets, music and delicacies from Wittenberg are awaiting visitors at several initial venues of the Reformation.
As soon as Martin Luther with his wife-to-be Katharina von Bora and 2.000 wedding guests are wandering through the old part of town of Wittenberg, it is going to be buoyant: Even horses, donkeys, goats and geese are escorting bride and groom on their way to the castle's meadow.
In order to obtain access to the castle's courts, squares and meadow you will neet to get tickets called wedding badges which are valid from friday to sunday. They are available at Wittenberg's tourist information. Tickets purchased before June 13 are priced at 8 Euro and 10 Euro as of June 14. Admission is free for children under the age of 14.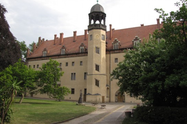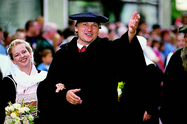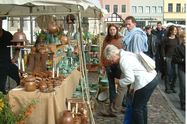 Katharina von Bora referred to as "Die Lutherin"
After reading Luther's critical writings about conventual life, nun Katharina von Bora fled from the Cistercian monastery Marienthron (Mary's Throne) in Nimbschen near Grimma in 1523. Escaping along with eight other nuns she had asked Luther for help who eventually agreed to take the nuns to Wittenberg.


Since the attempt to place the nuns with confidants of Luther's entourage failed, the great Reformer espoused Katharina von Bora at the Black Abbey of Wittenberg on June 13 in 1525. Katharina supported her husband throughout her lifetime as far as private matters were concerned. However, she also assured the family's economic livelihood by accommodating students who put Luther's sayings down in writing.