New Year's Eve

New Year's Eve in Wittenberg
Celebrate the start of the new year at the Luther-Hotel
Come and party with us right in the middle of Lutherstadt Wittenberg!
Our in-house restaurant invites you to a festive New Year's Eve with artful menus and selected wines. In a classy atmosphere, we will make sure that your last day of the year will be one to remember.
Our New Year's Eve Menu will leave no wish unanswered. Fresh local cuisine and deliciously prepared meals on a high level: Chef de cuisine Christian Hirsch and his team will not disappoint you!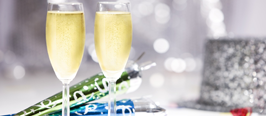 New Year´s Eve
2 nights including breakfast buffet, 1 ticket to the New Year's Eve Gala Night on December 31, mulled wine reception, and much more!
New Year with Luther
2 nights with breakfast buffet
1 three-course menu (2 main courses at choice) on 30 December 2015
1 guided tour with a visit to the Luther House on 31 December 2015
1 mulled wine reception in the winterly courtyard on New Year's Eve
1 ticket to the New Year's gala night (31 December 2015)
The New Year's Eve ticket includes (per person):
- Apéritif Gala Buffet
- 1 bottle of water
- ½ bottle of wine (red or white)
- 1 glass of sparkling wine to toast at midnight
- 1 Midnight Snack
- Musical entertainment
- prominent surprise guest
279,- € in a single room
228,- € per person in a double room

Offer period: 30 December - 1 January 2016